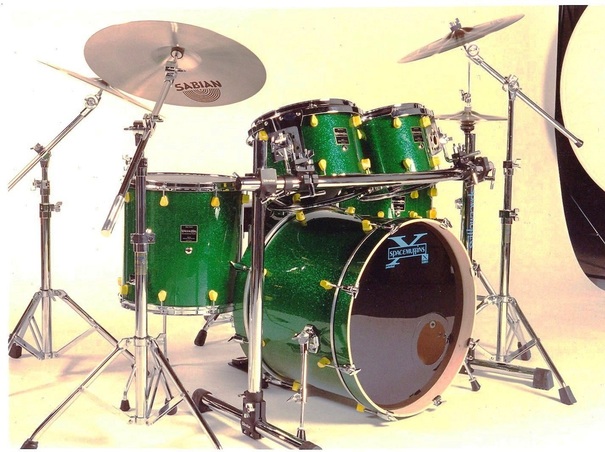 X Series Acoustics
Boom Theory was founded on the advancement of electro-percussion. It was only after building the first
"X Series" Electro-acoustic© kit and patenting the Bridgedeck® design, that I decide to give acoustics a shot. I'd built many acoustic prior to that time, but it was at that point that I became a Drum Builder, not a Drum Assembler. There's a big difference.
My Basic Approach To The Build
Rarely (if ever) will I use anything more than a 6 ply shell. They resonate better and I get huge sounds from small diameter, lightweight kits. Downside is a thin walled shells can flex under tuning pressures, go oval and choke.
Also, the thin contact point on the batter and resonant bearing edges doesn't make for great projection. There's a simple way to overcome these issues which brings us to:
Why I Reinforce My Drums
I reinforce shells for four reasons. Increased shell integrity thwarts choking, thicker bearing edges
make better contact and transmission down the shell wall, more wood allows me to custom form of the batter edge for individual application and it compels the shell into a perfect round.
"X Series reinforcements are "butt joined" and pressure fit by hand into each drum. Pressure fitting compels the drum into a near perfect round and allows for unencumbered resonance. The addition of 3,4,5 or 6 plies of reinforcement, fattens the bearing edges and enables me to fine tune that drum to the customers spec's.
By manipulating a round over to the outside and the cut to the inside, almost any sound can be achieved and (Depending on application) I can hand form the edge to control the decay rate of that drum, shorten sustain (my personal favorite ) or make it ring for 5 or 6 seconds.
This is critical when playing live and the reason I designed Boom Theory sets to excel in live conditions. Most of the drums I build end up on stage and a resonant shell with short decay is an engineer's wet dream. If you've spent any time in a recording studio, you know the first thing the tech wants to do is tape your heads! Why? Cause under mic'ing conditions your average acoustic drum rings way more than needed to allow for good recording. I compensate for this by reducing the area that I refer to a "passive harmonics zone". It's the area that acts as a tuning fork between the outer baring edge and the flesh hoop and I discovered it during R&D for the Bridgedeck X Series snare. The results? Stuff that used to get lost in the mix as mud now comes through the PA loud and clear. Most noticeable is the articulation you now experience from your rack and floor toms.
Fit, Finish and Focus
I use low mass, billet zinc or aluminum lugs. I like stamped, 2.3mm triple flanged super hoops on pretty much everything but will on occasion use a die cast hoop on the snare. I use 12 lugs per tom up to a 14" diameter and 16 lugs per bass drum up to 22". All my bass's utilize 8 or 10 ply counter hoops.
I prefer a wrapped drum to a stained or painted because I really hear the focus of a wrapped shell. However, several new paints I seen recently that are very thick, could be the best of both worlds and I may be tempted to offer them. I'll keep ya posted.
Prices
Acoustic pricing is quoted on a per order basis and average 5 pc set start around $1800. But like building a high performance motorcycle, money is speed. And so it is with custom drums. All things are possible if you have the means to do it : )

"Perhaps the most important design element of this kit is the inclusion of rounded bearing edges on each drum.
The rounded edges on this kit—hand-cut, by the way—do just what one would expect: They provide a warm tone..."
"Drums with sharper, louder tones may sound great in unmic'd rooms, but may be hard to control when a P.A. is involved. I took the Boom Theory kit on a gig in a medium-sized rock club, and the drummers out front told me it sounded sweet through the P.A.—warm and solid. It certainly sounded that way through the monitors on stage. This is precisely the setting these drums were designed to excel in, and they did just that. I suspect that they'd also do well in the recording studio."
Adam Budofsky: Modern Drummer Review

"The builders left in this industry, are few and far between. I build! In my shop, when I say innovation, I ain't talkin a new finish!"
Al Adinolfi

---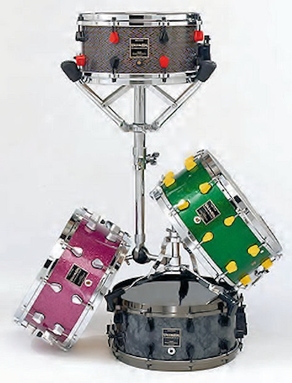 BRIDGE DECK SNARES
Believe it or not, the Bridge Deck design resulted from 2 years of R&D solidly based in electronic percussion.
We already knew that the hand rounded bearing edges we apply to every "X Series" drum, dramatically improved live Mic'ing.
But, the discovery of the bridge layering technique was unexpected icing on the cake!
This revolutionary, unique and patented configuration allows the projection, pop and focus of a metal drum, yet retains the subtle nuance and warmth of a thin walled maple shell.
Unlike other wood drums that rely on extreme wall thickness to achieve similar results,
the Bridge Deck is not a one-dimensional drum.
It's as comfortable and competent in an Orchestra Pit as it is on a rock stage. Flexibility is the key.
Lay into it. The stick explodes in your hand! (Many of our customers compare the sound to that of a tree branch snapping). Now, press roll from the edge to the center. Every resonant note reproduced fat and faithful.
I build these drums for my customers and endorsee's who hit with the worst possible intentions.
That's why Chuck Biscuits, Darren Costin, Chuck Treece, Leon Joyce Jr, Gavin Hamond, Christian Cook, Heath Brady and many others, all own Bridge deck snares.
The Bridge Deck thrives on being hammered!
The longer and harder you play it, the more it opens to a rich, round tone but its bark will always be as bad as its bite!


---